Matt Clark Three. Jazz influenced grooves. Combining a love of lo-fi loops and samples, and influenced by the avant-garde scenes of New York and Chicago…
Originally conceived as a solo project at the beginning of lockdown in March 2020, and with a nod to the traditional jazz combo naming tradition, but avoiding the standard "trio", Matt Clark Three has rapidly gained attention and established itself as One To Watch…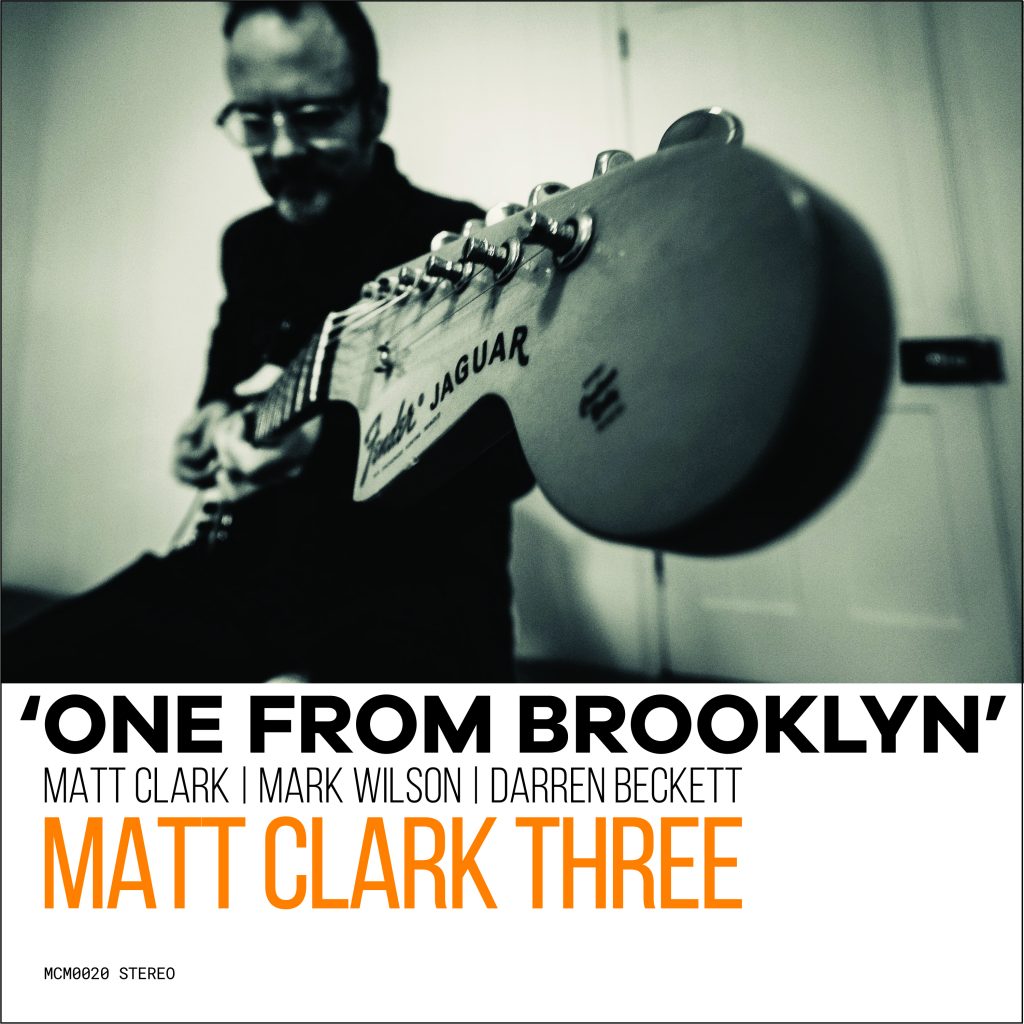 New album "One From Brooklyn" available for pre-order now on Bandcamp
Reflections on a trip to New York from the confines of a home studio, "One From Brooklyn" is the debut album by Matt Clark Three. Featuring collaborations with Mark Wilson (Caaw, Underhound) on double bass and Darren Beckett (Madeleine Peyroux, Lauryn Hill) on drums.
Available for pre-order via Bandcamp here (or click the Shop link above).
A familiarity develops … with the surrounding riffs, motifs and noises being added to a steady, solid central phrase, short or long, and this works well. Here, the guitar-led music is … not so much a soloist with a band but a soloist using the band and electronic tools to develop a far bigger picture, something much wider than the whole and I was constantly thrown off guard – which I like – and surprised. The one thing I took away was I want to hear more.

Sammy Stein on Jazz Views (full review here)
North Of No South on Bandcamp
"A collection of songs loosely based around an imaginary heist in Brighton, 1975…" out now and available for download on Bandcamp.
It is a brief and breezy record, and around the edges—as one song undergoes a shift in mood, for example, or drifts into another song—it feels like an eighteen-minute field recording of a city intersection… The overall effect creates a dynamic sonic quality, as if a laid-back street-level musical trio were performing their own structured and improvised material but also incorporating the ephemeral swell of sounds around them…

Jordan Penney – AllAboutJazz.com (full review here)
attentionspan EP on YouTube
I've been thinking about attention recently. According to some reports, our attention span is now less than that of a goldfish… Social media posts containing music and video are restricted to 1 minute or less… Music playlists are set to shuffle…
So, I decided to write and record a series of 1 minute pieces under the banner "Attention Span". Every Friday each was released as a short video on Instagram. Now they are available to collect and share. You can put them in a playlist and hit shuffle…
attentionspan is also available as an EP download via my Bandcamp page here.
Matt Featured on Talking Albums
I was recently interviewed by John McDonald for his Talking Albums project. John explains here:

"Talking Albums began as a radio feature on CHUOfm. I met with musicians and we talked about 6 albums that were special to them. During lockdown, I approached musicians and asked how they were spending their days and what they were listening to. These Talking Albums articles appeared online (apt613.ca). On the YouTube version of Talking Albums, I'll be seeking out interesting musicians, music people and music! If you know someone who I should talk with, please let me know.

"Matt Clark is a British guitarist and founder of Matt Clark Three. In this Talking Albums, Matt tells us about his trio, guitar influences, and three special albums."